Work packages
MULTI-ACT builds on 9 work packages. WP8 and WP9 cover transverse activities, namely: project management and dissemination as well as communication and exploitation, while the other work packages are devoted to the design, development, integration, test evaluation and implementation of the MULTI-ACT action.
The MULTI-ACT journey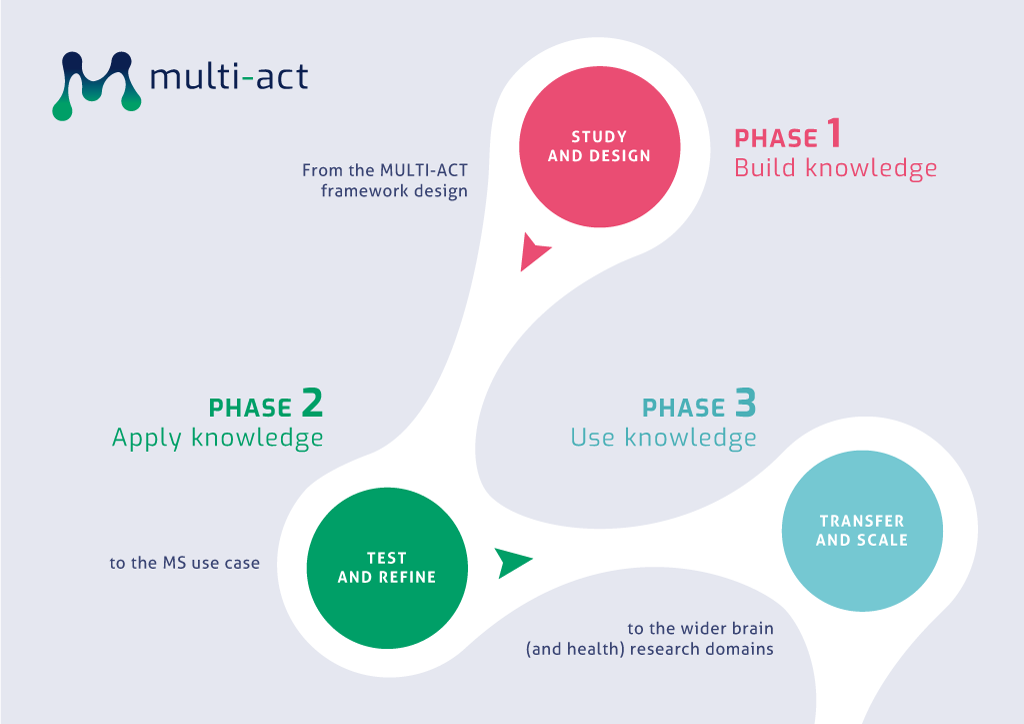 WP1 intends to capitalise on the intent to make a science of patient input in the R&I process and to deal with the collection and assembling of existing engagement procedures of patient engagement. This includes the co-creation of innovative routes – especially for R&I phases that are missing patient engagement procedures– and the consequent development of recommendations and rules.
WP2, through the development of an information sharing application (MULTI-ACT Toolbox 2.0), intends to create a multidimensional database format based on the CRIF framework that will be developed in WP3, to be developed and tested as model to be applied at national level for example to RFPOs and public bodies. The template will be a tool for multi-stakeholder R&I organizations to better classify research, also in relation to a given mission and agenda.
WP3 will develop and assess a Collective Research Impact Framework, – CRIF, starting from the IAM model , aiming to develop a collective research impact model¹ to measure multidimensional accountability of a multi-stakeholder research organization for a given mission and agenda. As a first step, the IAM model will be fine-tuned to be applied to the case study of Multiple Sclerosis (MS) as an accountability tool for evaluating the impact of MS research in a comprehensive manner, with regard to four dimensions of accountability: mission, excellence, economic and social dimensions. MULTI-ACT foresees patients and their community as new actors and key stakeholders in the health R&I process. Indeed, the "science of people with MS inputs" will be applied in a transversal modality throughout the four dimensions.
WP4, the Strategic research agenda and funding model, aims to implement the CRIF model to strategic planning and funding models. In continuity with the WP3, WP4 will focus on Multiple Sclerosis as a first test case study to set a European strategic research and innovation agenda including priorities, actions, instruments, resources and implementation timeline.
WP5, Health collaborative initiatives structures and policies, intends to identify and analyze existing multi-stakeholder collaborative experiences in the medical and healthcare field and in other economic sectors where these experiences have been more widely applied in order to define the MULTI-ACT governance model for collaborative initiatives and the most suitable tools.
WP6, Collective Research Framework: governance and guidelines, links the outcomes of all previous WPs and makes of them a concrete supporting tool for R&I actors. Policy recommendations will be collected and verified through tools and a broad methodology approach (e.g. dedicated online platform supporting research organizations in EU, provision of supporting guidelines, procedures, tools, etc.).
WP7, Transferability and test of the framework beyond MS aims to propose, apply and adapt the developed framework and related framework and methodology to selected organizations/processes or to a brain disease case study. Actions will be taken to foster the tailoring of the framework for other domains and to identify collaboration opportunities for post-development work beyond the project lifespan.
WP8 covers dissemination, communication and exploitation through conventional channels, like exhibitions and meetings, as well as non-conventional ones, like Twitter, LinkedIn, YouTube and Facebook, which are to be used to diffuse the project results. Transfer to industry is evaluated and a business plan derived on pilot data. One of the key elements for success of MULTI-ACT is the early involvement in the project (as well as in the consortium) of end-users and stakeholders. This is aimed to promote shared goals and to foster communication and strong collaboration throughout the project, thus effectively implementing a bidirectional translational research approach and a co-design of functional specifications.
WP9 handles project management, coordination, quality assurance and provides all support to the project, promoting a shared view and early detection of risks. A strong emphasis is devoted to ethical issues, through a dedicated ethical review board and to IPR management.
---
Andreaus M, Costa E. "Toward an Integrated Accountability Model for Nonprofit Organizations"
Accountability and Social Accounting for Social and Non-Profit Organizations. 2014 Nov 27;153-176.
http://dx.doi.org/10.1108/S1041-706020140000017006